Real Estate
Ask a question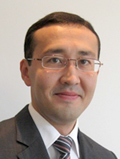 Alzhan Stamkulov
Partner
+7 727 390 15 10
sta@synergy-law.com
Synergy Partners provides legal assistance in various residential and industrial projects, commercial development projects, property purchases and sales, financing, and leasing. We also structure cross-border and cross-sector real estate and construction joint ventures.
We provide legal assistance on:
sale, lease and construction agreements;
legal due diligence of land, buildings and construction sites;
regulations, compliance, permits and licensing; and
finance.